SHELBY COUNTY FAIR
It's a very different looking SHELBY COUNTY FAIR this year, but the Houston Community Improvement Association will still be running our food concession.
We need your help in volunteering to work in four hour shifts.

WHAT: Houston Food Concession Volunteer Help
WHEN: Sunday, July 26 through Thursday, July 30
TIME: Four-Hour Shifts
— 6:30 am – 10:30 am
–10:30 am to 2:30 pm
— 2:30 pm to 6:30 pm
JOBS: Grill, Sandwiches (2), Set, Preparation, Register, Drinks
NOTES:
— There is no charge to get into the fair to work.
— Bracelets will be provided at the front gate for each volunteer. — Parking is also available in the midway area.

If you can find time in your schedule to volunteer, please contact Phil Cozad, by phone at 937-658-2860 to sign up.

*To view the schedule, click here.
HOUSTON COMMUNITY CENTER SUMMER FUNDRAISERS
Thursday, August 6 … our 3rd summer event
Purpose: Due to the cancellation of most of the Shelby County Fair this year and with over two months of no rental income, we are holding summer fundraisers to help support our building operations fund.
What: HCIA Fundraiser #3
When: Thursday, August 6
Where: Houston Community Center, 5005 Russia-Houston Rd
Time: 5 – 8 pm or until sold out
Price: $5 per meal
Menu: Famous Shredded Chicken Sandwich
plus hamburgers, cheeseburgers, sausage and hotdogs
plus bag of chips and applesauce;
Drinks – pop or water for $1 extra
Extra sandwiches available
We really appreciate your support of the
Houston Community Center
The first summer, 2020 fundraiser was very encouraging and a fine success.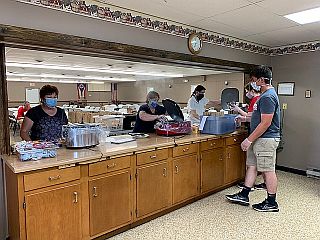 HCIA Trustees and supporters work to prepare meals to be taken to the drive-thru.
Phil and Brian have the grill under control.
The Houston Community Improvement Association Inc. is a non-profit organization that is dedicated to serving the community since 1966.
The Houston Community Improvement Association has a Facebook Page.
Click here and "JOIN US" or "LIKE US".

What does it mean to be a member of the Houston Community Improvement Association? You'll find association members helping out with fundraisers at the community center (Spring and Fall dinners), Pizza Nights, Shelby County Fair, and the Lake Loramie Fest. Also, as a 'Thank You' to the community, there is always an annual dinner currently in February.

Association Leadership:
President: Phil Cozad (937-658-2860)
Vice-President: Brian Helman (937-308-8271)
Secretary: Tana Ingle (937-418-0948)
Treasurer: Patty Cotterman (937-726-2869)
Interim Rental Agent: Chris Helman (419-953-3746)
Trustee: Tim Jung (937-570-5401)
Trustee: Jessica Schlater (937-570-4866)

If you have any questions or concerns, please contact one of the officers or trustees.
Updated: July 7, 2020