Houston Community Center'sTurkey & Ham Dinner

"Drive-Thru Only"
Sunday, November 8th, 2020
10:30 am – 1:00 pm

MENU
Turkey, ham, dressing, mashed potatoes or sweet potatoes, gravy,
green beans, applesauce or cranberry salad, dinner roll (w/butter),
various desserts, canned pop/water available
Donations really appreciated!  Proceeds help our operating fund!


We really appreciate your support of the
Houston Community Center
PIZZA NIGHT MENU
Houston Community Association–Fundraiser Pizza Event
2020: October 2, November 6, December 4,
2021: January 8, February 5, March 5
Pizza:
12" – 1 topping………..…………………….……………………….….. $10
12" – Deluxe (Pepperoni, Sausage, Mushroom, Onions, Green Peppers) … $13
16" – 1 topping………………………………………… …,.……………. $14
16" – Deluxe (Pepperoni, Sausage, Mushroom, Onions, Green Peppers) …. $17
Extra Toppings : Pepperoni, Sausage, Mushrooms, Onions, Gr. Peppers,
Banana Peppers ….. $1 per ingredient
Extra Cheese….…………………………………………………………… $2
Breadsticks:
5 Breadsticks with 1 sauce……………………………………. $3
Extra Sauce: (Marinara, Cheese, Garlic Butter)……………. $0.50
Drinks:
Water, Pepsi, Diet Pepsi, Mtn. Dew, Sprite, Root Beer……….$1
**All proceeds to benefit the HCIA Scholarship Fund!!**
***************************************************************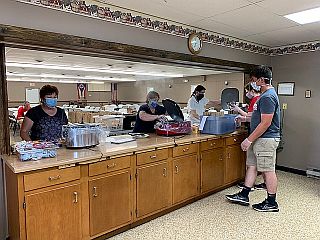 HCIA Trustees and supporters work to prepare meals to be taken to the drive-thru.
THANK YOUS for this Summer!
— Shelby County Fair volunteers
— All those that volunteered and supported the summer fundraisers

The Houston Community Improvement Association Inc. is a non-profit organization that is dedicated to serving the community since 1966.
The Houston Community Improvement Association has a Facebook Page.
Click here and "JOIN US" or "LIKE US".

What does it mean to be a member of the Houston Community Improvement Association? You'll find association members helping out with fundraisers at the community center (Spring and Fall dinners), Pizza Nights, Shelby County Fair, and the Lake Loramie Fest. Also, as a 'Thank You' to the community, there is always an annual dinner currently in February.

Association Leadership:
President: Phil Cozad (937-658-2860)
Vice-President: Brian Helman (937-308-8271)
Secretary: Tana Ingle (937-418-0948)
Treasurer: Patty Cotterman (937-726-2869)
Interim Rental Agent: Chris Helman (419-953-3746)
Trustee: Tim Jung (937-570-5401)
Trustee: Jessica Schlater (937-570-4866)

If you have any questions or concerns, please contact one of the officers or trustees.
Updated: October 7, 2020