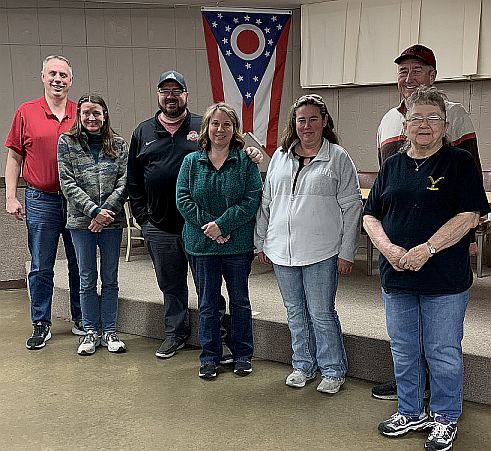 ******************************************************
LAKE LORAMIE FALL FEST
September 15, 16, 17

Once again, the Houston Community Center will be represented by the
Houston Food Tent. And … once again, we need your help in staffing the food tent throughout the weekend.
VOLUNTEER to help at Lake Loramie Fest, September 15, 16, or 17, you can sign up …
— online through SIGNUP (click below)


or
— call the rental phone number (937-419-4197) and leave a message that you would
like to volunteer for Lake Loramie Fest. Erica Lentz will return your call and get you signed up.
*************************************
PIZZA NIGHTS RETURN
Dates:
2023- Oct. 6, Nov. 3, Dec. 1,
2024 – Jan. 5, Feb. 2, Mar. 1

Time: 5:00 pm to 10:00 pm
Menu


–Breadsticks with options of marinara sauce, garlic butter, and nacho cheese
–Pizza
–Bagged Chips
–Water and Pop
===================
SHELBY COUNTY FAIR


Thanks to EVERYONE who worked the Houston Community Center's food booth. It was Hot, but we made the most of it and enjoyed each others company. There is talk of making new sandwiches … ROYALE. More on that to come.
Sincerely, Officers and Trustees =============================

THANK YOU FOR YOUR SUPPORT FOR THE JULY 1st BLOOD DRIVE
**************************************************************
2023 Trustees
Brian Helman, Patty Cotterman, Christine Helman, Jack Curl, Patricia Curl, Brian Lentz, Erica Lentz
===========================================
COMMUNITY CENTER RENTAL RATE INFORMATION PDF HAS BEEN UPDATED as of May 3, 2023. Check it out!



Join us on the new Houston Community Association Facebook page. Look for frequent posts providing updates of the association, community center, fund-raising events, scholarships, and more.
=========================================
Renew your HCA memberships.
Mail your checks with name and address to
Houston Community Association,
P.O. Box 368, Houston. Ohio 45333.
Membership Rates:
Family $10 Single $5
Retired Couple $4 Retired Person $2
Disabled Person $2
If you have questions on amounts, call Chris Helman
at 419-953-3746

We really appreciate your support of the
Houston Community Association
****************************************************************
HOUSTON COMMUNITY ASSOCIATION
2022 Scholarship winner is CALLIE LENTZ.
We wish you well!
===================================
The Houston Community Association Inc. is a non-profit organization that is dedicated to serving the
community since 1966.

What does it mean to be a member of the Houston Community Association? You'll find association members helping out with fundraisers at the community center (Spring Noodle dinner and
Fall turkey and ham dinners), Pizza Nights (Oct – Mar), Shelby County Fair, and the Lake Loramie Fest. Also, as a 'Thank You' to the community, there is always an annual dinner currently in February.

If you have any questions or concerns, please contact one
of the officers or trustees.
Updated: September 6, 2023